Connect With Us On Social Media
Follow Us On Social Media
Owner & Founder of My Paradise Planner
Award-Winning Sandals & Beaches Resorts Vacation & Wedding Specialist
About Kira
---
Kira Solomon is the owner and founder of My Paradise Planner, a home based travel agency she founded in 2008, at the age of twenty-one. Despite only being in the travel industry for a decade, she has propelled herself into the industry spotlight by becoming a top award winning Sandals Resorts Specialist as well as being inducted into the resorts incredibly elite Chairman's Royal Club for travel agents, proving she is a top partner with Sandals and it's brand and the resort chain recognizes her dedication. Because of her accomplishments she has made a name for herself among her clients and industry peers as an expert when it comes to Sandals and Beaches resorts. Kira's age had garnered just as much attention as her work. She was cited as one of the "Top 35 Travel Agents Under 30" in 2011 and one of the "Top 25 Travel Agents" of 2013 both by by Travel Agent Magazine. Today, Kira's business savvy continues to exceed expectations as her agency grows––from just one agent to a dozen independent agents by the end of 2019, including her husband, Robert, who quit his job to work from home helping her run the agency.
Kira and Robert have a son they named Miles, who they named after their love of travel. They work from home and live in Florida where can be spotted driving around town in their Sandals & Beaches wrapped "Sandals Van". 
What is one of the many things Kira loves about what she does? Meeting new people. She says, "I think it's great when my friends become my clients, but even better when my clients become my friends.
---
Awards Kira Has Received
---
CEO's Award Of Excellence
Sandals Resorts, December 2014
Awarded by the CEO of Sandals resorts, at the Sandals Travel Agency Recognition (STAR) Awards in 2014. This award goes to one travel agent per year and is hand picked by the CEO (now Deputy Chairman), Adam Stewart. ​
​Outstanding Achievement In Sales
Sandals Resorts, December 2013 & October 2018
Received the Sandals & Beaches Resorts "Outstanding Achievement In Sales" award at the Sandals Travel Agency Recognition (STAR) Awards in 2013 and by certificate of acknowledgement in October 2018.
Sandals Spirit Award
Sandals Resorts, December 2014
Received the Sandals Spirit Award at the Sandals Travel Agency Recognition (STAR) Awards in 2014, for dedication and support of the Sandals & Beaches brand.
Best of the Best (Southeast, USA)
Sandals Resorts, 2013, 2014, 2015, 2016, 2017, 2018, 2019.
Received the Sandals & Beaches Resorts "Best of the Best" award at the Sandals Travel Agency Recognition (STAR) Awards.
CEO's Award Of Excellence For Social Media
Sandals Resorts, December 2013, December 2014, & December 2015
Kira received the first ever Sandals & Beaches Resorts "CEO's Award of Excellence For Social Media" at the Sandals Travel Agency Recognition (STAR) Awards in 2013, for her commitment and dedication to supporting and interacting with Sandals & Beaches Resorts on various Social Media sites.
Chairman's Royal Club
Sandals Resorts, December 2012 - Present
Member of the Sandals Chairman's Royal Club-- an elite group made up of the top selling Sandals Specialists in the world and recognized by the late Chairman of Sandals, Mr. Gordon "Butch" Stewart and his predecessor Deputy Chairman Adam Stewart.
---
Platinum Level Certified Sandals & Beaches Resorts Preferred Specialist
---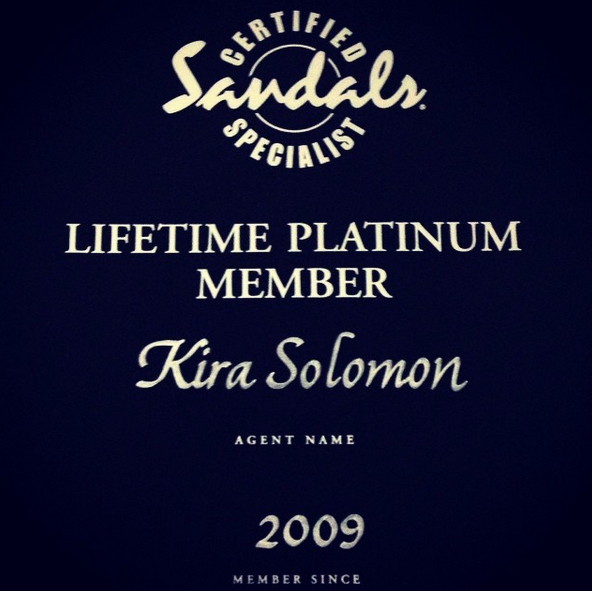 What it means to be a Preferred Specialist: Preferred Specialists status is achieved when a travel agent builds a strong partnership with Sandals Resorts. In return, Sandals recommends and prefers that their guests do business with these top selling agents. They are recognized by Sandals as experts on their resorts and in their field. How we achieve this status: In order for Kira to maintain this status she must attend annual training conferences with Sandals, visit at least one property a year, have at least 25 bookings per calendar year, and receive a scoring of 8 out of 10 or higher on Sandals' annual mystery call test. Kira has not only passed all of these expectations set forth by Sandals, but has exceeded them. What Platinum Level means: Sandals has a three tier "top seller" program. The levels are based on the amount of bookings the agent and/or agency has made since it began selling Sandals resorts packages. Certified Sandals Specialists are agents who make 1-25 bookings total, and have also completed the anual certification classe. Silver is the next level, indicating 26-75 bookings. Gold level is for 76-249 bookings. Platinum is the highest level, indicating 250+ bookings. What all this means for you: This may sound a bit confusing, but it all means something very simple. By working with Kira, you are working with one of the top sellers of Sandals & Beaches Resorts in the entire world! Kira is recognized by Sandals as one of the "best of the best" agents out there, and her expertise can mean the difference between a good vacation and an amazing vacation!
---
Member of the elite Sandals Chairman's Royal Club
---
The Chairman's Royal Club (CRC) is made up of an elite group of travel specialists who are recognized by the late Sandals Resort's Chairman, Gordon "Butch" Stewart, himself. This small handful of agents have achieved the highest status you can achieve as a top selling Sandals Specialist. To qualify, these agents (not their agencies, but agents themselves) must have at minimum 100 bookings per calendar year at Sandals & Beaches resorts. Kira was officialy inducted into the Royal Chairman's Club on December 1st, 2012 at the S.T.A.R. (Sandals Travel Agency Recognition) Awards at Sandals Royal Bahamian. At the time, she was the youngest CRC member to be inducted.
---
Named one to the "Top 35 Travel Agents Under 30 in 2011" by Travel Agent Magazine
---
Travel Agent Magazine does an annual feature on the industry's rising stars. Most people are shocked to find that our industry is full of young people and this is Travel Agent Magazine's way of acknowledging them for all of their hard work keeping our industry going. Kira was thrilled and honored when she receive a nomination for one of the spots in the "Top 35 Travel Agents Under 30" for 2011. The full article can be found by clicking here (Kira is on the bottom of the page). Excerpt from the article:

Kira Solomon, My Paradise Planner Kira Solomon launched herself into the travel industry by starting her own company when she was 21. After one year, she joined the Outside Sales & Support Network (OSSN) and almost immediately was asked to take the position of OSSN Chapter Director for the New York City area. Most recently, she was named OSSN Chapter Director for Tampa Bay. She is also a silver level Certified Sandals Specialist, and her company, My Paradise Planner, is a Sandals Preferred Agency. Solomon has a unique perspective on the recent downturn, having started her business in 2008 just as the economy crashed. "Even in a bad economy, I found that people were vacationing, honeymooning and traveling for business," she says. "I knew if the sky was full of planes, people were going places and that meant potential clients." Solomon's favorite recent trip was a Halloween cruise that visited famously haunted houses in Jamaica and Key West. "We had two professional paranormal investigators who signed up to do lectures for our group during the day at sea," says Solomon, who called it "an awesome experience!" Among Solomon's admirers is OSSN President Gary Fee, who notes that in the short time that he hs known her, "I have seen Kira go from working under a host agency struggling to get into the industry part-time, to working full-time, free from a host agency with her very own TRUE code, bringing on independent agents under her company." Fee adds that, "She is very driven and determined to be successful in this industry and we cannot wait to see what else is in store for her future."
---
Named one of the "Top 25 Travel Agents of 2013" by Travel Agent Magazine
---
The excerpts below are taken directly from Travel Agent Magazine. Click Here to view the article online (Kira is features on page 4).
What makes a top travel agent? Is it something easy to measure — sales volume, perhaps? Or is it something less tangible — pure dedication and willingness to go above and beyond for a client? Or is it some sort of combination of the two? Looking to find answers to this query, Travel Agent invited our readers to tell us why they were the toppers in their field. Some agents are home-based and part of a larger parent company. Some are in small, independent businesses. Some are part of huge corporations. As always, everyone had wonderful stories about the challenges and triumphs of being a travel agent, making it very difficult for us to select just 25. But we narrowed it down, and here they are — Travel Agent magazine's Top 25 Agents for 2013. Kira Solomon, My Paradise Planner At a remarkably young age, Kira Solomon has already accomplished much in her field. In 2009, at the age of 22, she became a chapter director for the OSSN, a position she still holds. By December of last year, she was teaching Seminars at Sea for the OSSN, and this past May, she was asked to be a panelist on the first-ever "Secrets of the Young & Successful" panel at the Home Based Travel Agent Forum in Las Vegas. (Due to scheduling issues, however, she had to decline.)
As a young agent, Solomon is quick to experiment and adapt: "After two years of struggling to compete with online travel companies, I changed my business plan and my company took off. I picked a small handful of suppliers I trusted, in locations I'd personally been to, and became an expert in selling only those. My new business rule of thumb became 'if I don't know it, I don't sell it.' It may sound crazy, but turning down business has actually made me more successful. By becoming an expert in my narrowed-down niche, travelers personally seek out my help and I find it much easier to close the sale."
David Roper from Sandals Resorts International praises Solomon's "go-get-it" approach to business. "Her clever use of social media outlets has been a key element in her fabulous progression in business. At the tender age of 25, Kira attained membership to the prestigious Sandals Chairman's Royal Club, an elite club for which annual membership is gained only by top sellers of the Sandals Resorts product line."

---
Young Travel Professionals (YTP) - Tampa Chapter Founding Board Member
---
In late 2015, Kira joined together with six other young travel professionals in the Tampa area to start a local Young Travel Professionals (YTP) chapter. As a member of the board, Kira accepted the position of managing the chapter's social media and marketing in order to grow membership and engage current members. Through this position Kira was able to marry two of her passions, travel and social media. She enjoyed networking with travel professionals all over the Tampa Bay area and making new contacts and friends in the industry she is so proud to be a part of. Unfortunately, in 2019, Young Travel Professionals closed their global chapter down for good, effectively closing all the local chapters down with it. While she misses networking with this incredible group, she knows some doors must close so new ones can open and she looks forward to what is next on the horizon for travel professionals in the Tampa Bay area.
---
Former Chapter Director for the CCRA (OSSN) in Tampa
---
CCRA is is the Premier Travel Industry Trade Association representing and supporting travel agents all over the United States.  Kira joined the OSSN (now called CCRA) in 2009, as a means of networking with industry professionals and to receive education and support in order to grow her business.  After a few months with the organization she was asked to take a position as Chapter Director for the New York City area, where she lived at the time. Excited for the new opportunity and challenge, Kira took the position and held it for a year. Unfortunately, she had to let the position go when she moved from New York to Clearwater, FL. But not long after, the President of OSSN personally asked her to take over their Tampa Bay chapter, and Kira was thrilled to be a director again.  She served as the Tampa Bay director from 2011 to 2016. While managing the Tampa chapter she organized monthly meetings, offering support and advice to other local agents. On top of her local responsibilities, Kira was even asked to teach sales and marketing seminars to fellow agents for their "Seminars At Sea" program. Kira was also asked to be one of four panelists for the 2013 Spring Home Based Travel Agent Forum in Las Vegas for the first ever "Secrets of the Young & Successful" panel, the "Vow To Wow: Say 'I Do' To Destination Weddings" panel at the Home Based Travel Agent Forum in Orlando in 2013, and the "Romance Exclusive Powered by the Romance Travel Forum" panel at the Home Based Travel Agent Forum in Tampa in 2015.
---
---